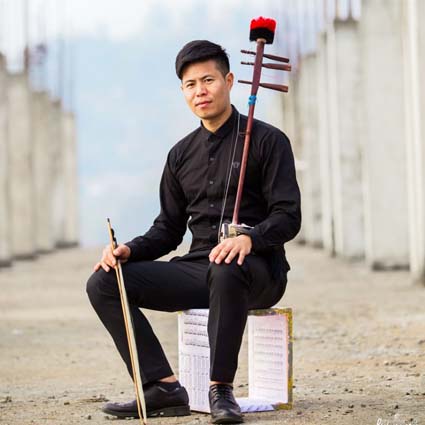 Khonoma Village (Nagaland)
Nagaland is a small Tribal state in the North East Part of India. Nagas are music and art lovers (Approx. two to three members of a Naga Family learn or are music students); however, western influence has overtaken the lifestyle and art forms to a great extent. The reason our own art forms were not developed professionally or encouraged, is that many are on the verge of extinction. The music of any region and its Arts is important as it has the opportunity and the need to represent the true values and cultural identity through it.
Gei-ü – The instrument is more refined in terms of musicality. More musical notes and a higher range. It has the potential to fit in more music rather than just folk, which in turn would encourage more music lovers to explore.
Team Gei- ü has a band named, 'Atso Chasie and the Griots' performing around schools and colleges, introducing a taste of folk fusion music using refined Tati and Gei- ü along with western instruments. This also imparts our cultural ethics and folk stories etc. Since the inception of the instrument, the pace has been slow in introducing the instrument, due to financial instability.
Young Artist Award for classical music ,NEZCC -2014 Best Instrumental ,6th Naga music awards .2014 First price winner, National Guitar competition -2014 International guitar festival,Delhi ,2nd price winner-2015 Received Research fellowship, from govt of India, C.C.R.T 2014 Best Instrumental ,11th Naga music awards : Atso Chaise/The Grand Bison.2019